"We are working to develop our positions
in accordance with our customers' needs."
I would like to introduce myself
I joined the company as a sector manager before moving on to become a sales manager. My background is essentially commercial. Coming from the rural world, I have a particular sensitivity for our profession.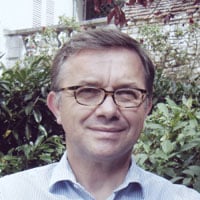 MY MISSION AT THE GRANDS MOULINS DE PARIS :
I lead a team of 6 sector managers, and at the same time, I manage regional negotiations. In supermarkets, we operate on two markets: grocery with Francine and bakery with Moul-Bie. On these two very competitive markets, we are making sure to develop our positions in accordance with our customers' needs and the company's expectations, with a focus on high value-added products.
WHAT I AM PASSIONATE ABOUT IN MY JOB:
First of all, it means creating a context within the team that makes everyone want to give their best. Then, it's combining all these energies to get the expected results!
MY MOST BEAUTIFUL PRIDE IN THE BIG MILLS OF PARIS:
It's the team around me! In fact, the region was created from scratch a few years ago. Today, looking back, when I see the path we have taken together, it is really very satisfying.
MY FAVORITE GRANDS MOULINS DE PARIS PRODUCT:
I have always loved bread! So choosing one in particular is difficult... I still have a soft spot for the Muesli bread... With goat cheese!