From March 14th to 16th, come and visit us on stand C 35 - hall 4 of the CFIA in Rennes to discover this new visual identity and discuss with our sales teams the advantages of our wide range of ingredients for BVPT manufacturers: milling mixes, sourdoughs, cereal ingredients, improvers and functional flours.
Grands Moulins de Paris, a recognized player in the world of BVPT ingredients
In order to better promote all the expertise and commitment of Grands Moulins de Paris on ingredients for industrialists, we wanted to develop a specific brand identity. With "ID Ingredients", BVPT industrialists can more clearly identify the whole range of products and services adapted to their needs, beyond the milling expertise of Grands Moulins de Paris.
The brand's universe is based on 5 pillars to differentiate it and make it unique:

Technical and sensory ingredients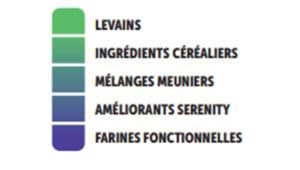 Our membership of the VIVESCIA group, a leading French cereal cooperative group, guarantees us perfect control of the supply chain and a wide variety of ingredients from wheat, corn and malt.
Support at every stage of industrial projects with a team of experts who listen to you
The men and women of our Product Innovation Development Division (DIP) study and formulate customized solutions. Our technical experts support manufacturers during the implementation of their products (technical assistance in particular). Our marketing department organizes innovation days to respond to new consumer trends. Finally, our sales team is at the side of the industrialists to realize their project with serenity.
An agile and efficient business partner
Every day, our customers seek to respond to new consumer trends and develop safe, good and profitable bakery - pastry - catering products. To achieve their projects with confidence, they can count on the expertise of men and women who know how to be adaptable. The solutions we develop together must be effective in meeting the challenges ahead.
The CFIA, a must-attend event to discover all our new products
"Serenity Gluten Replacer" to adapt its productions in a controlled manner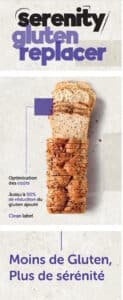 In order to help manufacturers maintain their profitability in the current context of unstable raw material prices, Grands Moulins de Paris has developed Serenity Gluten Replacer: an enzymatic solution to reduce added gluten in bakery, pastry and confectionery applications .
Serenity Gluten Replacer allows up to 50% reduction in added gluten depending on the recipe.
An easy to use and economical solution, perfect for dealing with :
     - to the soaring price of gluten
     - the limited availability of French gluten
     - to consumer distrust by removing/reducing ingredient lists on products.
Come and discover our range of Serenity improvers that will help you in the control of your productions.
Deactivated and dehydrated wheat germ leaven to enrich the sensory notes of its products
Thanks to its unique baking know-how, Grands Moulins de Paris has been producing deactivated and dehydrated sourdoughs for more than 50 years according to a traditional baking method. The raw materials are carefully selected to guarantee quality and traceability. Without fermentation starter, they are made in a slow way in order to obtain a perfect balance between acidity, aromatic intensity and toasted notes which make its particularity.

Come and discover Grands Moulins de Paris wheat germ sourdough : a deactivated and dehydrated sourdough that brings toasted and cooked notes, perfect for savory applications. It can be easily integrated into all applications (breads, puff pastries, pizzas, crackers...).
Grands Moulins de Paris' expertise in ingredients at the heart of the CFIA highlights
Nutrimarketing Innovation Tour Tuesday, March 14 between 11:00 a.m. and 12:30 p.m.
Grands Moulins de Paris' ID Ingredients teams will be taking part in the CFIA innovation tour proposed by Nutrimarketing in order to showcase all the "taste" solutions that can give products a unique signature.
Keynote "The era of real food: application in BVP" Wednesday, March 15 from 1:30 to 1:45 pm
Consumers are looking for products with simple and natural ingredients, and are looking for a return to the "real thing". Fatiha Hanine, ID Ingredients Marketing Product Manager, and Olivier Gagnard, ID Ingredients Sales Team Manager, will lead a conference to deepen the knowledge on this trend. To be found on YouTube:
Stand ID Ingredients by Grands Moulins de Paris : stand C 35 - hall 4