As for many food professions, Christmas is the most important period for bakers! As the end-of-year celebrations are fast approaching, we have decided togo and meet our artisanal baker customers, throughout France, to accompany them during this pivotal period of their activity!
This is why, from October 12 to November 23, our sales and technical teams organized no less than 16 festive days across France: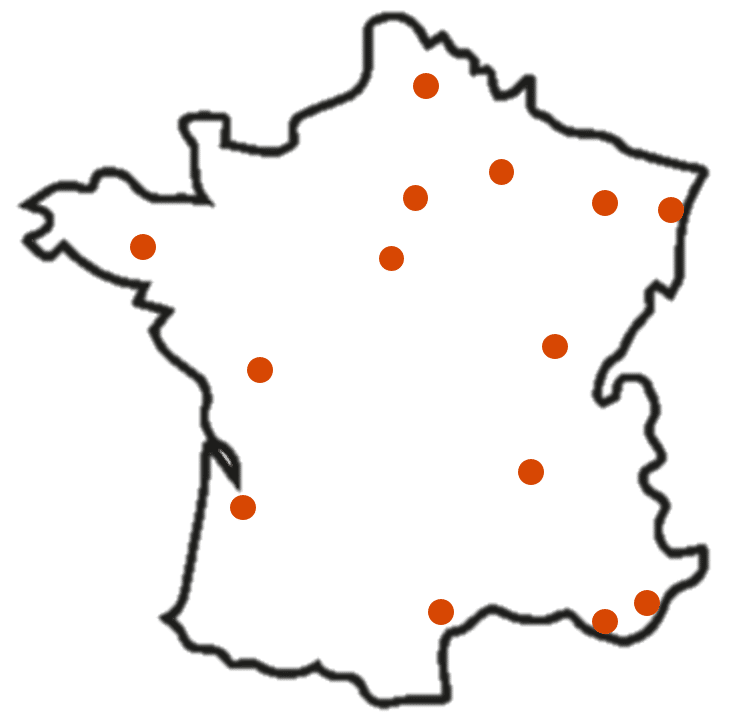 - October 12 - Mathenay (39)
- October 19 - Bourg-les-Valence (26)
- October 25 - Paris (75)
- October 26 - Annezin (76)
- October 26 - Holtzheim (67)
- October 26 - Bordeaux (33)
- November

3

- Orléans (45)
- November

3

- Paris (75)
- November

4

- Niort (79)
- November

9

- Reims (51)
- November

9

- Messein (54)
- November

9

- Fréjus (83)
- November

9

- Béziers (34)
- November

9

- Guerlédan (22)
- November 16 - Marseille (13)
- November 23 - Paris (75)
Festive days, sources of inspiration
These festive days are above all an opportunity for the bakers and their miller to meet in a more informal and festive setting to talk about the past year and the one to come.
Our goal with these days was to help our customers prepare for the Christmas season with attractive products and also with an adequate presentation of these products in the store.
The days began with the presentation (and tasting!) of our impressive buffet of festive breads: flaky rye breadbread, sandwich bread Kapnor, gingerbread method cake, apple cinnamon country breadapricot brown panettone, blacksmith's cobbler with muesli, rye bread with lemon confit, apricot comté cheesechocolate orange brioche, cornmeal toast, khorasan bread with muesli...
Our Technical Advisors then performed some of the recipes presented in front of the customers to go into more detail on certain techniques.
Then, we presented to the customers a range of festive snacks, ideal to propose in December, either to complete lunch formulas or to sell in catering formula for the aperitif of the festive meals. All the snacking recipes were made on the basis of one of the festive breads presented previously, the idea being to show how the same recipe can be declined in several products for sale: fig and foie gras on apricot and comté bread, salmon on rye bread with lemon confit, salmon burger with cornmeal buns, veggie hummus and avocado club sandwich, southwestern foie gras and onion confit burger, goat cheese croque-monsieur on khorasan bread...
As with the festive breads, our technical teams assembled the snacking recipes in front of the customers so that they could ask any questions they might have.
Finally, our teams of Point of Sale Advisors presented customers with different ways to highlight their products in-store, offered them different tips to encourage impulse purchases and helped them to position themselves on the prices to be charged in-store for these festive products.
Because those who speak best about it are those who have lived it, discover the testimonies of Jean-Maurice Lemoine (Boulangerie JM Lemoine), Adeline Vargas (Boulangerie Angrand) and Dany Rachinel (Technical Advisor member of the Confrérie des Boulangers Grands Moulins de Paris) :
Thank you to all the customers who came to see us and to all the employees
who participated in the development of these festive days.
We wish you a wonderful holiday season!