Liberté flour is a traditional organic T65 flour that was developed in collaboration between the American miller Central Milling and Grands Moulin de Paris. It is a blend between our French organic concentrate and their American organic flour.
Discover the testimony of Vincent MathieuVincent Mathieu, head of sales for North America, who tells the story of the birth of this flour.
The genesis: meeting between the two millers
The meeting between Central Milling and Grands Moulins de Paris took place in 2019.
Nicky Giusto, a fourth-generation miller at Central Milling, was the coach of the U.S. team at that year's Bakery World Cup. While the competition was held in France with French ingredients, Nicky contacted Grands Moulins de Paris through the Bread Bakers Guild of America.
We then donated our French Tradition T65 flour for the American team to train in the United States under "real world" conditions. Indeed, both companies are members of the bakers' guild and are willing to support whenever baking, education and quality are at stake.
Central Milling x Grands Moulins de Paris: the beginning of the collaboration
Teams from both companies first met in person at the 2019 IBIE show in Las Vegas. A year later, Grands Moulins de Paris traveled to Utah to visit Central Milling and meet with enthusiasts. This was an opportunity for employees to exchange and strengthen human relations between teams.
An idea was born from this meeting: to associate the know-how of the two countries to develop a common flour and thus get the best from each continent.
Grands Moulins de Paris is renowned for its flour, which has remained consistent in quality over the years, and is used by almost one in three bakers in France. The baguette de Tradition is about to be classified as a UNESCO World Heritage Site. For its part, Central Milling is a major player in the field of high-end organic flour in the United States. So it was a perfect alliance.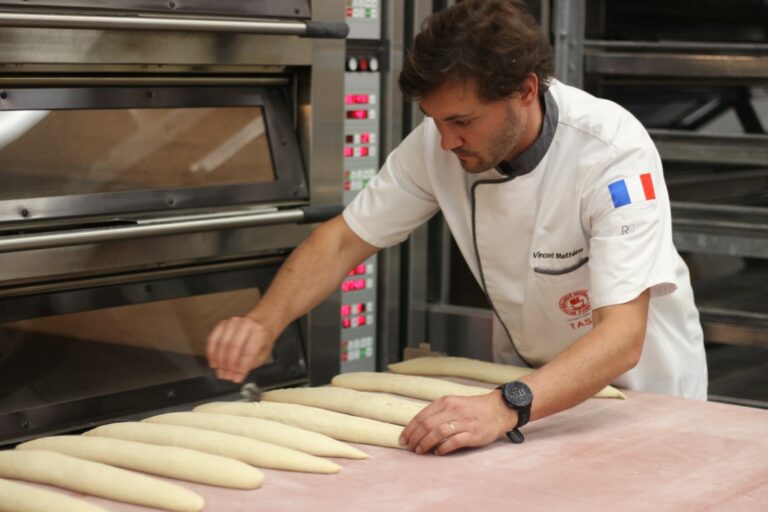 Liberté: a flour made from two types of know-how
So we worked to create a concentrate of our famous French Tradition T65 flour to mix with Central Milling's organic artisanal flour.
"Liberté", the name chosen for this new co-branded flour, takes us back to the time when the Frenchmen Lafayette and Rochambeau fought alongside the American people to conquer freedom and bring a fresh wind of brotherhood.
Liberté de Tradition T65 organic flour was tested in a double baking session in Petaluma, California at Central Milling's bakery.
By using natural leavening, slow mixing and long cold fermentation, the result of the baguette de Tradition is a crispy baguette, with a honeycombed crumb and creamy color typical of Grands Moulins de Paros, and inside, a delicate sweetness that is the signature of Central Milling's selection of wheat.
This flour brings together two continents and two mills by combining their experiences to bring the best organic flour to high-end artisanal bakeries. 
Three years later, in 2022, we are proud to showcase this new flour at the IBIE in Las Vegas.