"Be at the beginning of the client's professional project and accompany him
throughout their journey to build loyalty."
I would like to introduce myself
Jean-Pierre Ortz, 53 years old, 25 years of which spent at the Grands Moulins de Paris, married, three children.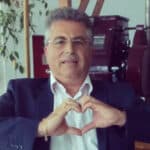 MY MISSION AT THE GRANDS MOULINS DE PARIS :
To help bakers to realize their projects in order to develop their loyalty to our brands and thus increase Grands Moulins de Paris' turnover.
WHAT I AM PASSIONATE ABOUT IN MY JOB:
It is the relationship that we can establish with the customer or future customer. To be at the beginning of their professional project and to accompany them throughout their career in order to build their loyalty and thus ensure the development of Grands Moulins de Paris' turnover.
MY MOST BEAUTIFUL PRIDE IN THE BIG MILLS OF PARIS:
This is my career path at Grands Moulins de Paris. First hired as a VRP (Traveler, Representative, Salesman), I quickly moved on to a position as a network coordinator (Ronde des Pains) in Ile-De-France. Then an enriching experience as a Sales Manager and for the last 7 years, as a Transactions and Financing Consultant! Yes, there are real opportunities for development at Grands Moulins de Paris.
MY FAVORITE GRANDS MOULINS DE PARIS PRODUCT:
The Campaillou for its appearance, its taste, its shape and for the premiums that it allowed me to reach in the objectives of sales of mixes because at the time it was the most sold mix in France.