"Grands Moulins de Paris is a company with a history
And that fits into people's everyday lives."
I introduce myself
"Juliette Guibert, 30 years old. I did a BTS in agriculture, then a school of agri-food engineering. I did my end-of-study internship at GMP, then a position became available at DIP, which I quickly returned to. Since then, I've been a Product Innovation Development Project Manager for milling mixes, such as custards, pastries and especially the products in the Francine range."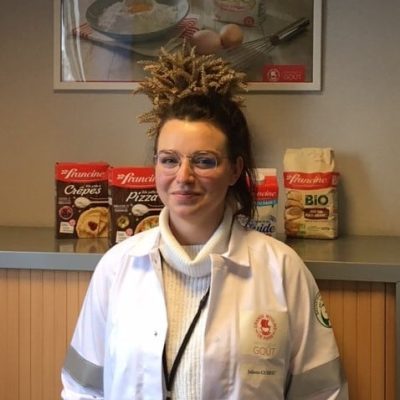 WHY DID YOU JOIN GRANDS MOULINS DE PARIS? 
The opportunity to join a company that has a history and is part of people's daily lives. The presence on all markets (artisanal bakeries, supermarkets, catering, industrial, international).
WHAT IS YOUR MISSION AT THE GRANDS MOULINS DE PARIS ?
Develop the products of tomorrow: the formula, the delivery. Make sure that our Francine products are good and simple. But also to rework our products so that they are always efficient and healthy. All this by coordinating the relationship between the different departments involved.
WHAT MAKES YOU PASSIONATE ABOUT YOUR JOB?
Acquire, apply and transmit knowledge.
MY MOST BEAUTIFUL PRIDE AT THE GRANDS MOULINS DE PARIS
My first development on the shelf: Francine shortcrust pastry mix! Shopping and seeing my product on the shelves, in consumers' shopping carts.
IN A WORD, FOR YOU, GRAND MOULINS DE PARIS IS ?
An experience!