Because we like to cultivate our difference
100 years after its creation, our Grande Maison is resolutely oriented towards ever healthier and more responsible products, towards ever more genuine and attentive relationships. And this is because the men and women of Grands Moulins de Paris have made choices. 
- The choice to adopt a simple and true posture, from the cultivation of the grain to the flavour of the bread, from the selection of the ingredients to the tasting.
- The choice to be committed to the good, to the pleasure of creating quality products from a tradition and know-how that we pass on throughout the world.
- The choice to be as passionate as ever about our milling profession and the desire to share it, day after day, with pride.
- The choice to look to the future, positively and responsibly, to favour sustainable farming, production and transport techniques, to source our wheat as close as possible to our mills.
The origin of a great century-old house
1914-1918 -1st World War
As the war dragged on, the people were hungry and revolt was brewing. In 1917, Ernest Vilgrain, thethird generation of a line of Lorraine millers, was called to Georges Clémenceau's government, which he joined as Under Secretary of State for Supply. His primary mission: to give the people back their food. His success in this area earned him the nickname of "key holder of the national pantry".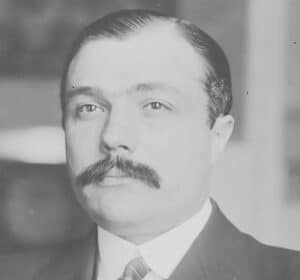 1919 - Creation of Grands Moulins de Paris
Armed with this expertise, Ernest Vilgrain and his brother Marcel created Grands Moulins de Paris in April 1919. This was the beginning of an extraordinary story. Joined by a handful of men, all with milling expertise, they decided to build the largest industrial mill in the world to meet the population's supply needs on a permanent basis.
In the summer of 1919, the first stone of this emblematic building was laid on the Quai de la Gare in Paris, inaugurating the era of industrial milling. The ambition was strong: 6,000 quintals of wheat were to be milled every 24 hours. This ambition was quickly achieved and even exceeded.
In 1923, more than 7,900 quintals of wheat were milled per day, twenty times the production of the 20,000 other mills spread throughout the country. The production rate reached 9,500 quintals per day in 1925.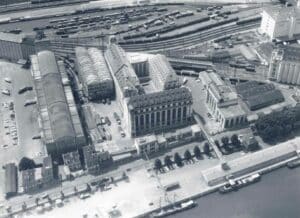 1929 - Creation of the first bakery school in France
Back from the war, there were not enough bakers and the know-how was lost. Grands Moulins de Paris therefore decided to create the Paris Bakery and Pastry School (EBP Paris) to make up for the lack of manpower, and to safeguard and pass on the baker's know-how.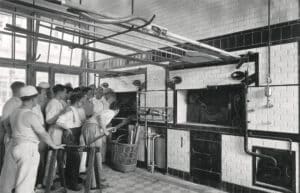 Milling know-how and innovations for 100 years
Click on the different dates to discover the story behind them.
2019: an anniversary year for GMP as it celebrates its 100th birthday!
In a world where 80% of the jobs of 2030 do not yet exist, celebrating 100 in 2019 is both a way for a company to highlight its outstanding performance and to affirm its confidence in the future.
In order to build the celebration of this centenary in a specific way, we have drawn on the wealth of French popular expressions around grain, mills and bread.
Discover the retrospective in pictures
On the occasion of its centenary, Grands Moulins de Paris has launched several striking innovations based on key food trends:
  - The search for a new experience with the Campaillette Epoca baguette with ancient grains and seeds
  - The naturalness committed with Francine's new organic multigrain bread flour and a new organic yeast and Campaillette's Grand Siècle Bio.
  - Tailor-made solutions: GMP is the first miller to offer bakers its online product catalogue so that they can order in a few clicks and simplify their daily routine 24/7!
2021-2022 - product innovations continue
- Blockchain on Francine Bio T55 flour: Fork to fork traceability with a focus on know-how in partnership with Connecting Food.
- Francine's practical pack for Wheat and Fluid flours :
launched
in addition to the paper bag
which remains our main historical packaging method, this new packaging aims to meet certain expectations of practicality expressed by consumers
who have an
This new packaging aims to meet certain expectations of convenience expressed by consumers who have an average consumption frequency and who wish to avoid waste through a reduced format. This pack is recyclable.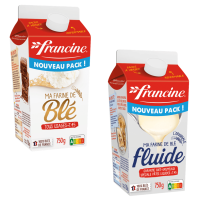 - The creation of Berrouga, rich in legumes, twice awarded at the Pépites de la Boulangerie 2021 and SIRHA Europain Awards 2022: an innovative milling mix rich in plant proteins, made from 100% French wheat flour and legumes.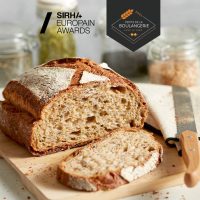 - Towards ever more responsible flours with Cœur d'Epi, a flour made from wheat produced using soil conservation agriculture.
Grands Moulins de Paris is reinforcing its commitment to greater responsibility by jointly developing a 100% VIVESCIA group chain in thesoil conservation agriculture. This practice combines quality production in quantity, respect for the soil and its biodiversity and better recognition of farmers for their practices.Coeur d'Epi" flour is produced at the Brienne-le-Château mill and sold only to artisan bakers in the East, Île-de-France and Rhône-Alpes regions.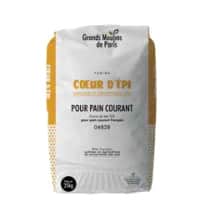 You may also be interested in these contents