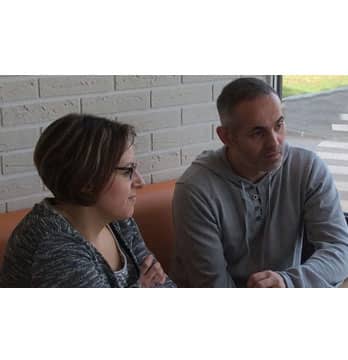 Entrepreneurial and passionate, Christophe and Carine created a new Campaillette bakery in August 2016 with the support of Grands Moulins de Paris.
Discover the portrait of Christophe and Carine Antunès, settled in Sauvagnat-Sainte-Marthe (63)
Can you introduce yourself?
We are Christophe and Carine ANTUNES. We are 35 and 34 years old and have been working in the bakery for 16 years. However, we did not have the same training. I did an apprenticeship in bakery while my wife was previously a hairdresser. In 2005, we bought our first business in Sauvagnat-Sainte-Marthe in the Puy-de-Dôme. We sold it in early 2016.
Where do you stand today?
We embarked on a new Campaillette bakery project since August 2016. In our previous business, we did not work exclusively with Grands Moulins de Paris but we had a very good relationship with our Area Manager. We had told him about our desire to make a creation. Very quickly, he presented us with a location for which we fell in love.
Why did you choose to be accompanied by GMP in your project?
First of all, because the Grands Moulins de Paris team has always supported us in our first business in Sauvagnat-Sainte-Marthe. We were also convinced by the quality of the support offered for the creation of our new business. We were well supported.
How did GMP contribute to your project?
Listening, reactivity and follow-up.
Can you give us some keys to success?
The seriousness and involvement of the bakers in their project, the quality of the products, the choice of the location, the consideration of the advice, a good customer relationship (develop animations, communicate with a known and modern identity).
What if I had to do it again?
We would do the same thing again, we have no regrets. The only thing we would like to do is to enlarge the parking lot because at noon there are a lot of people.
Would you recommend GMP as a miller to support bakers who want to set up? 
Yes, and that's what we did with my former boss. We introduced him to Grands Moulins de Paris so that he could accompany him in a creation project.
Are you a happy baker today?
Yes, we are very happy today.
A message for all those who want to settle for the first time?
We wish them the same success as we do with the same support, not forgetting the keys to success that we have shared with you.