The analysis of your Diagnosis and the listening brought to your needs allow our Point of Sale Advisors to create your personalized Action Plan.
The action plan will be co-constructed with you around three pillars: Merchandising, Communication and Training.
Merchandising: enhance and energize three key departments in a bakery
1/ Merchandising cabinet
Equip your home with a unique bread cabinet. Its design combines modernity and efficiency.
- Highlight your know-how
Special breads, which mark the signature of the artisan, placed at eye level.
A photo of the baker's gesture and the sentence of your choice to promote the craft.
- A clear and impactful offer
A simplified segmentation for a readable offer: bread with character, gourmet bread, cereal and seed bread, daily bread.
A personalized, magnetic and printed label to save time and make the product arguments readable for everyone.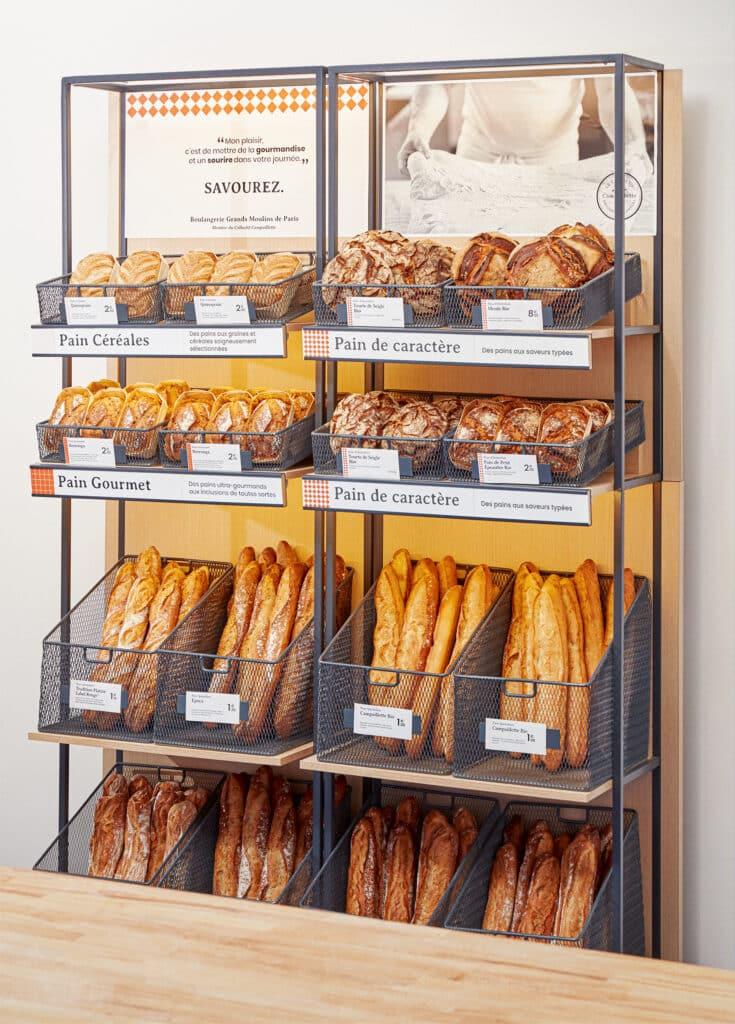 2/ Pastry service
Improve your pastry sales with an innovative bakery service. We offer you a global solution including :
- assortment recommendations;
- a complete and adapted re-implantation of the pastry department by your Point of Sale Advisor;
- tools and supports to create desire and trigger impulse buying.
3/ Organic Service
Be more serene in obtaining your organic certification! Grands Moulins de Paris accompanies you with its partner Ecocert in :
Install your organic bread line easily and quickly with our service!
Moreover, the first year of certification is free for you! We take care of the costs.
Communication: set up communication operations adapted to your store
With the help of your Point of Sale Advisor, determine your objectives and establish the operation you need. We put at your disposal :
-Tools: flyers, banners, leaflets, promotion kits, loyalty cards, etc.
-of the different channels: distribution in letterboxes, distribution in the street, animation in front of your store.
Training: strengthen your skills and those of your team
1/ Sales and Merchandising training
-Sales training "flash module": an introduction to the customer buying process
We offer a 2-hour course for your entire sales team. This dynamic and concrete method allows a personalized training at your point of sale.  
- Sales and Merchandising Training: from a service posture to an efficient and sustainable sales posture
Improve your sales skills and learn to develop your point of sale by following a specific Sales and Merchandising training! This one-day training module will help you to move from a service posture to an efficient and sustainable sales posture.
The Sales and Merchandising training is based on a dynamic and participative method that teaches you to enhance your products and sell them better.
Complete module of 7 hours. 100% recommendation rate by professionals.


2/ Management training
Develop your managerial skills. This one-day module provides you with tools specially designed by and for professionals. You will learn and develop simple and effective managerial methods to manage and motivate your teams.
7-hour module.
You may also be interested in these contents