A dedicated team to help you develop your bakery department
You are a food retailer and you wish to promote the bakery know-how in your stores? Grands Moulins de Paris offers you a selection of flours, milling mixes and improvers adapted to your bakery to help you gain in efficiency and profitability, and meet your consumers' expectations. You will also benefit from commercial and technical support to help you develop your turnover.
Our consumer knowledge at your service
Thanks to our expertise in the entire bakery sector, the marketing studies we carry out and our dedicated Research & Development department, we are committed to meeting your expectations and those of consumers.
We develop products in line with current market trends: simplicity, authenticity, flexitarianism... Each customer and each bakery has its own needs: our personalized solutions will help you make your daily life easier and satisfy your customers' taste buds.
Qualified experts to assist you on a daily basis
In order to guarantee the optimal result of your products, our technical experts, members of the Confrérie des boulangers accompany you in the manufacturing process as well as on the commercial, managerial and marketing level.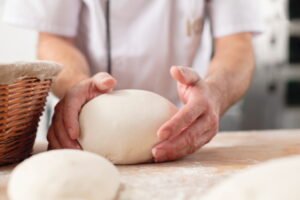 Want to know more? Please contact us!
You may also be interested in these contents