Since mid-December 2019, a beautiful cup has joined the homemade breads and pastries in the windows of the bakery J-M Lemoine at 2 rue de la République in Montreuil-sous-Bois (93). At 37 years old, Jean-Maurice Lemoine, a passionate baker-pastry chef, climbs to the 1st step of the podium in the competition for the best traditional French baguette in Seine-Saint-Denis.
A prize that rewards the craftsman's know-how but also the quality of our Campaillette Grand Siècle flour that he used to make his baguettes. Congratulations to him and to the Grands Moulins de Paris teams who have been working with him for several months.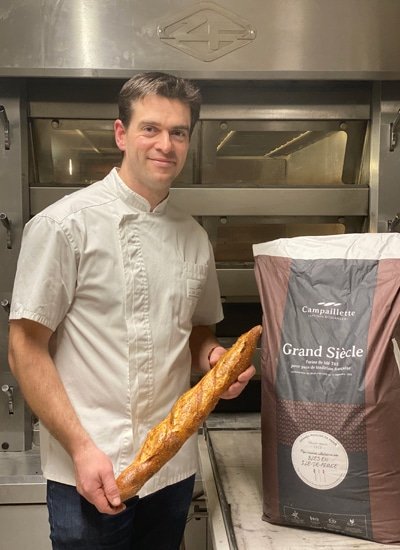 Why did you choose Campaillette Grand Siècle flour for your traditional baguettes ?
When I choose a flour I obviously look at the prices, because a company is made to earn money, but I especially focus on the quality because without it, no results to satisfy the expectations of customers. After several tests with Campaillette Grand Siècle flour, I gained 3 points of hydration compared to my previous supplier, and the fermentation was improved.
What I also like about this flour is that it is local. The mill in Paris-Gennevilliers crushes wheat exclusively from the Île-de-France region to produce Campaillette Grand Siècle flour. This is an additional selling point for my customers today.
What do you like about working with Grands Moulins de Paris?
Of course, there is the fact that I can get my supplies from a mill near Paris. It is also the fact that they listen to my needs and accompany me in my projects. For my flour silo, for example, Grands Moulins de Paris is certainly not a manufacturer, but I was able to count on my sales representative and the teams behind them to finance the project and put me in touch with an installer.
What I appreciate about Grands Moulins de Paris is the close relationship and the daily personalized follow-up while benefiting from the strength of a large miller who has contacts in the bakery industry.
Is winning the first prize in such a competition important to you?
I didn't expect it at all because my participation this year was a bit last minute and I always tell myself that I can do better, so I'm very proud to be on the first step!
I received congratulations via social networks and of course it also pleases my usual customers. I plan to put a window sticker on the front of my shop to show it off and maybe even change the front of my shop.
It's a way to make myself known and an opportunity to highlight everything I do to offer quality home-made products to my customers. I am in a rather "natural" and "responsible" approach and unfortunately I don't take enough time to communicate about it. For example, I am lucky to benefit from the production of fruits and vegetables from the family property in Normandy that I use in my pastries and homemade savory preparations.
And if not, are you ready for a next contest?
Absolutely, I will be a candidate for the next regional baguette competition during the Bread Festival on Sunday, May 17, 2020. So fingers crossed!