Click and collect has been growing rapidly since the containment and has become a real consumer trend. Convenient for consumers, this service also has many advantages for your bakery.
Discover the testimony of Mr. Furet, a baker and Grands Moulins de Paris customer, who implemented this solution in his bakery.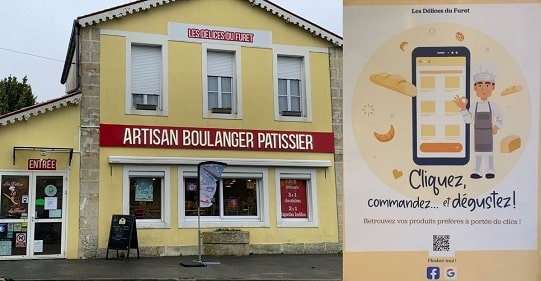 Click and collect: the testimony of Mr. Furet 
Why did you decide to implement click and collect in your bakery?
We have implemented click and collect in our bakery in order to follow the market trend, develop our snacking sales and above all meet the new expectations of consumers.
How does it work?
It's very simple, we manage the site orders on a laptop, customers register on the site and pay by credit card directly on our site. Then, they just have to pick up their order at the indicated time.
What did it bring you?
It's still too early to tell, but we will surely retain a good portion of the 800 students of the gendarmerie school located just across the street.
How did Grands Moulins de Paris help you in the implementation of this solution?
Our point of sale advisor assisted us upstream on the reflection related to our production and sales organization. Then, he helped us to put our products online (photos, prices, descriptions...) as well as the settings of the click and collect site.
Would you like to make click and collect a permanent feature in your bakery? And why do you want to do so?
This is our objective, because we believe that this is the future of local commerce, and we think we have a potential turnover on this type of sale.
Any advice for those who are still hesitating to get started?
You have to catch the train when it passes! It is important to think about the organization beforehand and to spend time integrating the products.