The protection of the environment is becoming more and more important in our daily lives and by committing to organic food, we are taking a step forward for the planet and for the health of everyone.
Consumers looking for authentic, good and healthy products are sensitive to this approach: already 62% of French people buy organic bread* ! And you, what are you waiting for to offer it in your bakery?
Grands Moulins de Paris Organic Department
In addition to offering you carefully selected products, Grands Moulins de Paris is launching a new service for bakers to simplify the process of obtaining organic certification .
With Grands Moulins de Paris, it has never been so easy to make organic products!
Your commitment to organic farming is facilitated and the process of obtaining your certification is accelerated!
A partnership with Ecocert
In partnership with EcocertIn partnership with Ecocert, we offer you a support during the different steps of the implementation of the organic certification: a team of experts will be there to support you!
Organic service: what are the advantages?
  - Simplified administrative formalities;
  - Two days of intervention with a Technical Advisor;
  - Half a day with a Point of Sale Advisor;
  - The Ecocert audit to obtain the BIO certification.
Options to go further:
We also offer two optional kits to be fully equipped for your organic bread making.
  - The bakery kit : composed of a horn, a shovel, a round dough cutter, a square dough cutter, a grignette, two layers, a paline, two tubs and their lids, a brush and three stencils/
  - The POP kit: promotional material for your store (poster, hanging poster, window sticker, stickers and price tag), recipe cards, traceability sheet.

Our sustainable sacking :
Stop the waste of sacking!
Did you know that? Grands Moulins de Paris uses 837 tons of paper, which represents 22,000 trees, 169 tons of waste and 62 million liters of water.**
Yet 90% of consumers expect brands to be committed and nearly one in two consumers already buy recyclable or recycled products.
Based on this observation and to help you in your efforts for a sustainable future, we propose three designs of cotton baguette bags and three designs of jute bags. These grouping bags propose a technology new in France with a jute material suitable for food contact thanks to an inner coating in polyethylene (the material which is present inside milk bottles and fruit juice cartons).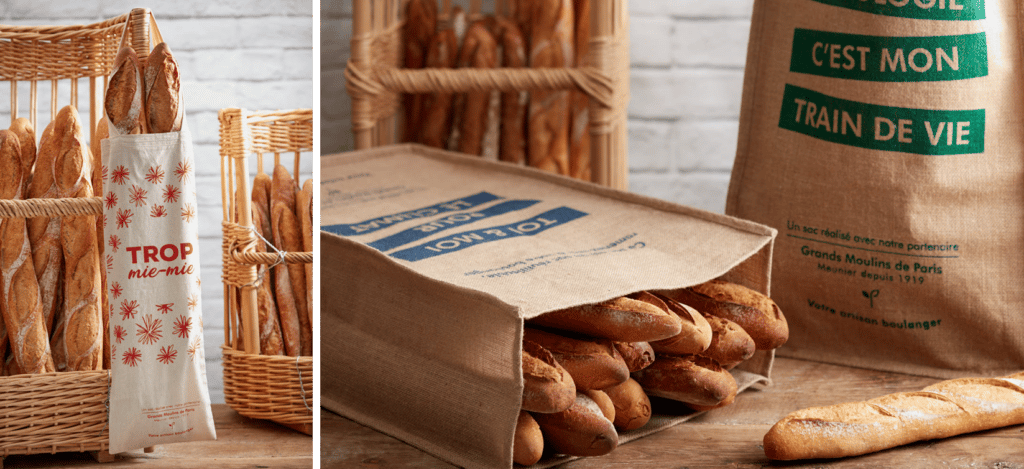 Our organic flours :
Discover now our organic flours and milling mixes:
  - The Tradition T65 Organic T65 : a flour for the realization of your breads and baguettes of French tradition bio.
  - The Tradition T80 Organic T80 Bio : the ideal flour for the manufacture of French Tradition organic breads, with sweet flavours.
  - The Grinding wheel T80 A rustic, authentic and generous organic bread to be presented in large pieces.
  - The Grinding wheel T110 Bio A solid organic bread with a thick crust and a smooth crumb.
  - The Grinding wheel T150 Bio : an essential product to propose in your organic range.
  - The Organic Bread is the rustic organic bread par excellence.
  - The Organic 3-seed bread 3 Seeds Bread : an organic bread rich in seeds and cereals.
  - The Complete Organic Grinding Wheel Organic wholemeal milling blend for dark breads with a sweet taste.
  - The Biograins is a seed bread that respects the specifications of products from organic farming.
*FEB - The French and bread - March 2021
**Baggage Impact Assessment - HAATCH 2020