Grands Moulins de Paris has chosen to join forces with the Italian know-how of Bongiovanni Mills to create quality Italian pizza flours. This partnership has resulted in two flours marketed by Grands Moulins de Paris to our key account customers.
The two "VERA" flours are made in Italy. They have been developed with the collaboration of the best Neapolitan pizzaioli and selected to offer restaurant and bakery professionals pizzas of Italian quality. Discover Gaia Bongiovanni's testimony:
Grands Moulins De Paris & Bongiovanni: tradition and high standards
As a century-old miller, it was important for us to work with a partner with recognized expertise.
The history of the Italian Bongiovanni mill began in 1977 with its founder Claudio Bongiovanni. In just 40 years, he managed to turn it into one of the largest mills in Piedmont, a region rich in wine and food and always dedicated to the cultivation and milling of wheat. Today it is one of the main producers of flour in Italy. Every day, about 470 tons of flour are produced in the 2 Bongiovanni production sites with a 24-hour activity.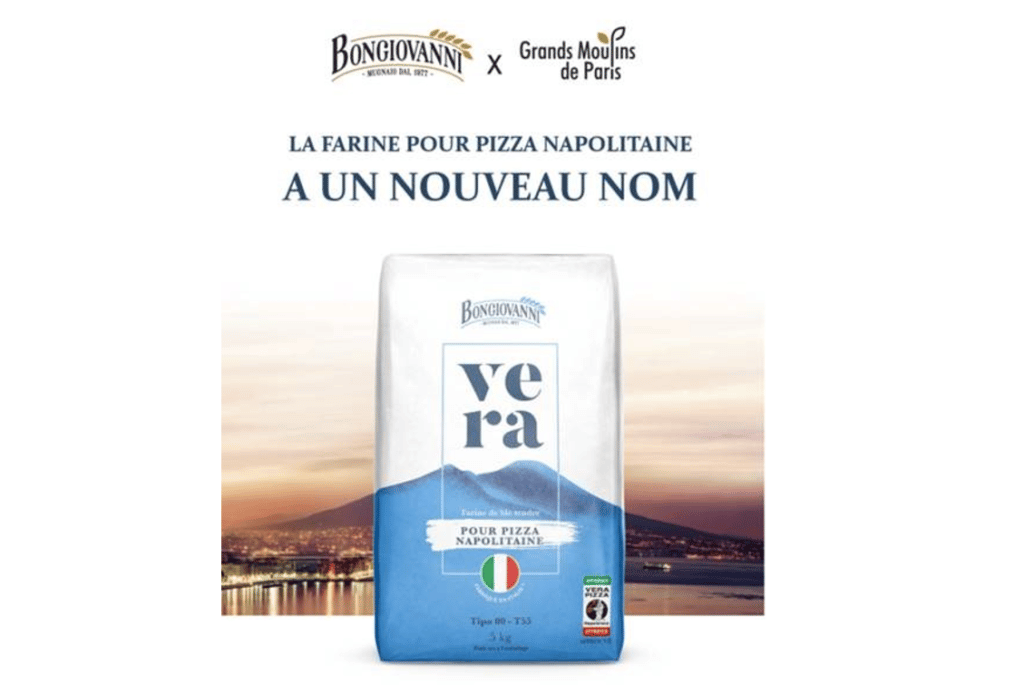 VERA: the flours that give pizzas the taste of La Dolce Vita
To create the perfect pizza flour, you need real experts. That's why we chose to partner with Bongiovanni for our two "VERA" flours, made in Italy, the birthplace of pizza.
For years, Italian mills have studied and developed flours specifically for the creation of pizza dough. From the selection of the grains to the milling, storage and cleaning of the grains, everything has been thought and designed to obtain optimal flours for pizzas.
VERA flour for Neapolitan pizza
This pizza flour is designed for long rise products (48 hours in the refrigerator and 20 hours at room temperature).
Ideal for the production of the real traditional Neapolitan pizza, it is approved according to the specifications of the Associazione Verace Pizza Napoletana (AVPN).

The VERA for Neapolitan pizza allows to obtain a dough that is easy to stretch in the "Neapolitan style" and gives smooth and homogeneous doughs. It has an exceptional resistance during the rising process and allows an excellent development of the crust during baking.

VERA flour for Italian pizza
This pizza flour is recommended for medium rise dough (24 hours in the refrigerator and 12 hours at room temperature).
Ideal for focaccia and pizza cuts, the dough is easy to stretch, smooth and homogeneous. It has a good resistance during the rising process and expresses all its vitality during fermentation giving birth to a beautiful honeycomb. It allows a fast cooking for a light and digestible result.
A dedicated recipe booklet
In order to facilitate the marketing of these new flours to our customers, a booklet has been specially designed to present this Bongiovanni partnership and these two new pizza flours that are entering the Grands Moulins de Paris range. This document also includes recipes with practical tips for use.