From September 23 to 27, 2021, the SIRHA exhibition took place in Lyon: the international meeting place for the restaurant, hotel and food industries. We were happy to meet our customers and to present our innovations. Back in pictures.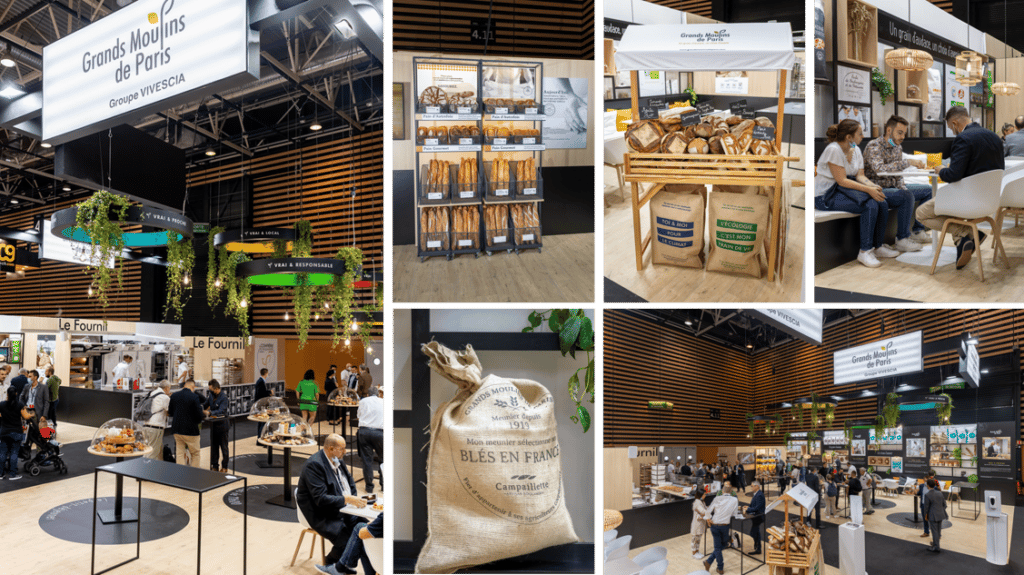 Grands Moulins de Paris : A 170m² stand !
We welcomed you on a 170m² stand! A friendly space where you could discover and taste our innovations.
Grands Moulins de Paris has launched its new Signature range. A range of flours that puts the creativity of the artisan baker at the heart of bread making.
This range is composed of :
- Flours: flours valued by their origins and their production methods. Red label, CRCThey will support your commitment to quality and respect for the environment;
- Ancient flours: made from ancient cereal varieties, they allow us to make breads full of flavour and history;
- Classic flours : to make your daily products in the respect of the baking tradition;
- Ingredients: with their unique organoleptic properties, they will allow you to create your own products and let your inspiration flow.
Discover the catalog of our Signature Range: https: //adobe.ly/3AZBo0M 
The Campaillette collective was also hon ored with the display of the new visual identity of the brand and the exhibition of the new bread rack. An ideal, modular and customizable piece of furniture to structure your bread offer in which you could discover in exclusivity the new Campaillette festive bread: the Tout Schuss. A bread made from wheat and rye flours, with inserts of raisins, almonds, hazelnut halves and linseed.
The innovations of the range Les Recettes de Mon Moulin :
- The tabby with flowing heart The : A plain muffin dough with chocolate chips, topped with a cocoa-hazelnut flowing heart. Ideal for the snack break of young and old gourmands;
- The pastry flan 4 parts: A greedy product, made in France, with a melting texture and an intense vanilla taste, without coloring agents, preservatives, nor artificial flavors;
- The swirl brownie: a croissant dough filled with a brownie and decorated with hazelnut chips that bring greed and crispness. The perfect balance between a French pastry and an American pastry;
- The salted twists: cheddar or Monterey jack and smoked paprika which will be available mid-October;
- The Swiss and mini chocolate chip Swiss will be available in mid-October.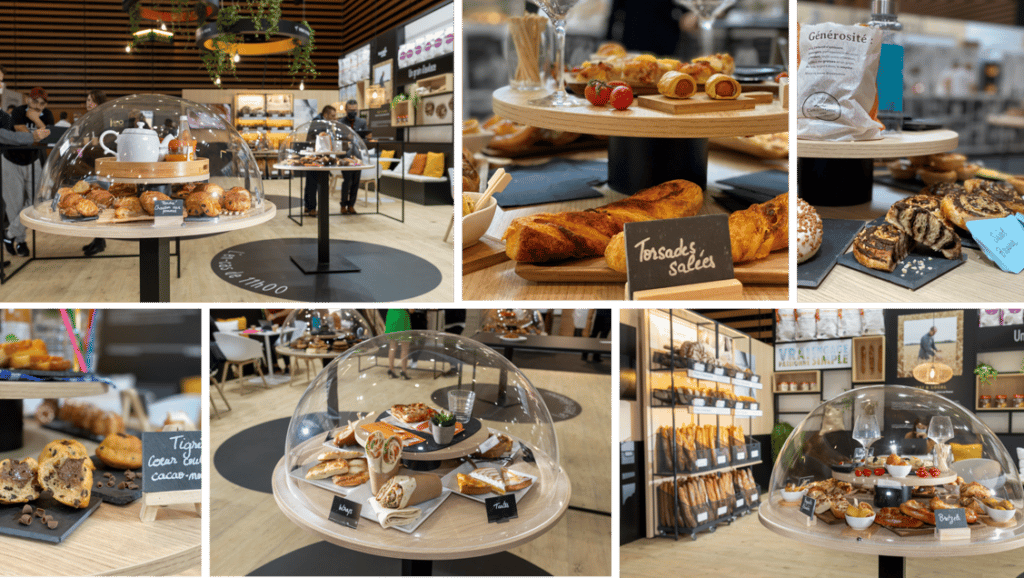 Live demonstrations by members of the Confrérie des Boulangers de Grands Moulins de Paris
In this space, our technical advisors, members of the Confrérie des Boulangers de Grands Moulins de Paris, worked in front of you and gave live demonstrations of some of our recipes.
You can find all the recipes that were presented during the SIRHA, on our website in the recipe tab:
- Panettone: get ready for the end of year celebrations with this classic Italian bakery which seduces all French people at breakfast.
- Berrouga: vary your range of breads with this product rich in legumes and vegetable proteins: characteristics very much in demand by consumers!
- Rye pies : a bread of yesteryear, whose pronounced flavours are a delight for bread lovers, at Christmas but not only!
- La Meule T80 Bio: a rustic and generous organic bread to be presented in large pieces, everything that consumers expect from an authentic bread.
- Quinograin: a bread that satisfies the desire of many consumers to eat well. Particularly rich in fiber, with its three seeds (red quinoa, sesame, chia) and its three types of cereals (wheat, rye and oats), it also asserts its originality with acerola, which replaces ascorbic acid.
Find all the news about SIRHA on our social networks
Throughout the SIRHA, we relayed the news of the show on its social networks: Facebook, Instagram, LinkedIn and Twitter.
Customers even took the floor to share their favorites among the innovations presented and their history with Grands Moulins de Paris. Find all these interviews in the stories A la Une of our Instagram account.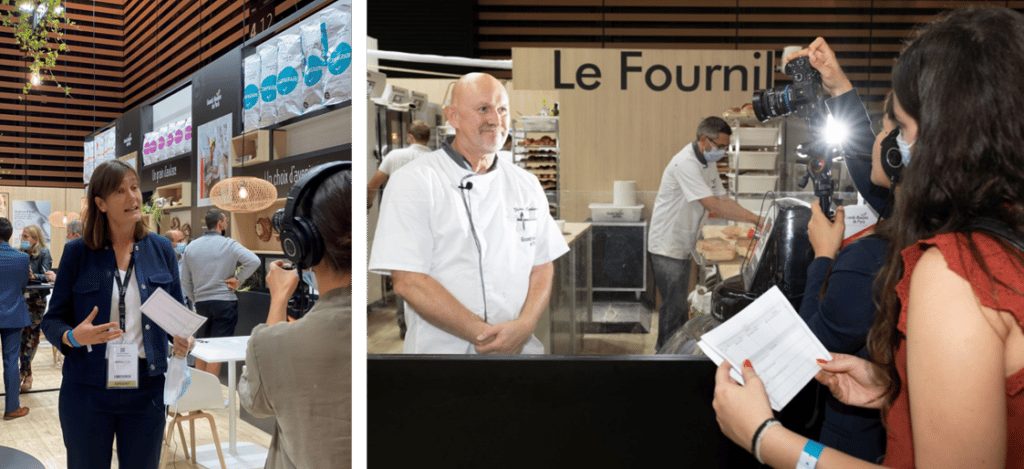 SIRHA 2021 : Strong partnerships
We would like to thank our partners who accompanied us throughout the show:
  - The Bongard brand, specialized in professional bakery equipment for the equipment present in our bakery.
- Bissardon, producer of local fruit juices that could be tasted on our stand during the five days of the show. A brand with which we share common values such as naturalness and proximity. Indeed, Bissardon offers a range of fruit juices mainly coming from orchards of the Auvergne-Rhône-Alpes region and transformed in the respect of the original taste of the fruits and their benefits. A partnership that allowed us to introduce the brand to our customers.