Grands Moulins de Paris' modernity has been a strong marker since its creation 100 years ago. This anniversary year allows us to celebrate its solidity and confidence in the future. It is therefore quite logical that today we wish to share with you the pillars of our A TABLE approach:
Strong commitments to guide our action at all
within Grands Moulins de Paris
for a responsible food supply.
86% of French people express high expectations for information about the products they buy (Source: Opinion Way and Ifop 2018).
Our response to these aspirations is based on common sense. We have also implemented numerous actions to reduce our environmental footprint. At the heart of our approach is local.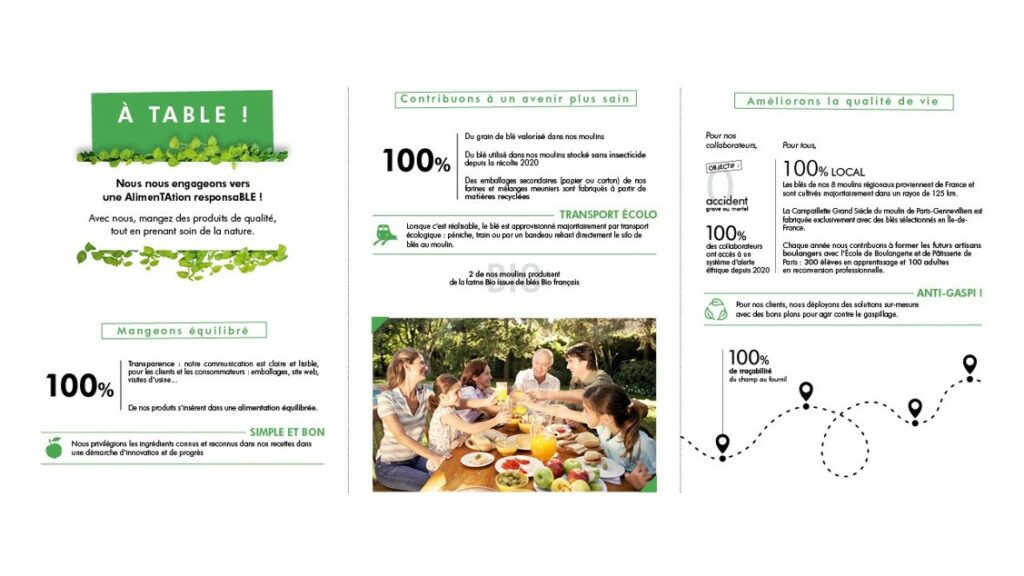 Eat a balanced diet
Our recipes are designed to fit easily into a balanced diet. We favour known and recognized ingredients with a search for innovation and continuous improvement.
For example:
  - the colorants and flavors included in our milling mixtures are of natural origin since May 2018
  - our Tradition flours contain only wheat ingredients since September 2018
  - 100% of the eggs and egg products used by Grands Moulins de Paris come from alternative farms to cages since July 1st 2020
In addition, whether on our packaging, our websites or in our factories, we provide 100% clear and readable information for our customers and consumers.
Let's improve the quality of life
Because safety is a priority, we are implementing risk prevention measures to become a zero accident company by 2020. To ensure that this working environment is also based on fundamental respect for ethics, 100% of employees will have access to an ethics alert system during 2020.
The quality of life for all also requires a virtuous approach to our supplies, with 100% French wheat. The wheat from our 8 regional mills comes exclusively from France and is grown mostly within a 125 km radius. The Campaillette Grand Siècle, made at the Paris-Gennevilliers mill, is even 100% Île-de-France wheat. All these figures can be guaranteed thanks to the traceability from the field to the bakery.
We also provide our customers with numerous customized solutions. And to act against waste, we accompany them with good anti-waste plans.
And because it is important to support the future generations of artisan bakers, we contribute to training 250 young people in apprenticeship and 100 adults in professional retraining each year in partnership with the Paris Bakery and Pastry School.
Let's contribute to a healthier future
Our first challenge is to make agricultural production more environmentally friendly. Thus, 100% of the wheat grains used in our mills will be stored without insecticides by the end of 2020. We will also produce organic flour from French organic wheat in two of our mills by 2021.
Whenever possible, we use sustainable means of transporting the wheat: by barge, by train or by a pipe linking the wheat silo directly to the mill. And because what the Earth gives us is precious, 100% of the wheat grain from our mills is recycled.
Finally, for our flours and milling mixes, the secondary paper and cardboard packaging is made of 100% recycled materials.
It is together, and with all the enthusiasm that characterizes us, that we write the future of Grands Moulins de Paris and the world in which we live!