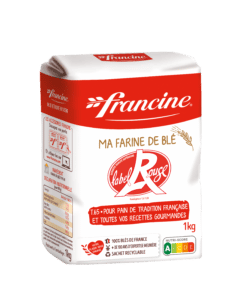 Francine has been committed and innovating for the pleasure of the French for over 50 years! A new proof of this commitment is the launch in April 2022 of a new reference of high quality T65 Label Rouge wheat flour in FSC® certified recyclable bags.
Label Rouge: a superior quality flour
The Label Rouge is an official sign of French quality. It certifies that the products have, by their conditions of production or manufacture, a level of quality superior to the products of their category.
It is the best known label with 96% awareness and in which consumers have the most confidence with a confidence rating of 7.9/10.(source: IRi-Mintel November 2021).
In order to receive the Label Rouge label, products must meet strict requirements, including 
    - precise rules of production and storage: no insecticide treatment of wheat storage after harvest.
    - wheat carefully selected for its recognized baking quality, obtained after selection and blending of wheat; only wheat varieties from the list of VRM (Varieties Recommended by the Millers) are authorized.
    - Quality control: compliance with the defined criteria is ensured by regular audits and controls.
Francine Label Rouge flour has been officially certified by Certipaq as meeting the above requirements.
A Label Rouge T65 flour for all your gourmet recipes
The new Francine Label Rouge flour is a T65 that contains nothing but wheat flour (no wheat gluten, no malted wheat flour, no added enzymes).
It is ideal for all everyday dishes: from sweet to savory recipes and also for making homemade bread.
To inspire consumers, we have chosen to relay on the pack a simple, everyday, quick and tasty recipe for apple, walnut and hazelnut cake.
Among all the product promises, the ones that seem to be the most important for the French are local and made in France, ahead of labels. The origin of products is therefore an essential choice criterion for consumers, now and in the future (source: shopper psyches study, April 2021).
This new flour, like all Francine wheat flours, is made from exclusively French wheat. This reference is produced and bagged in our regional mills of Reims and Brienne.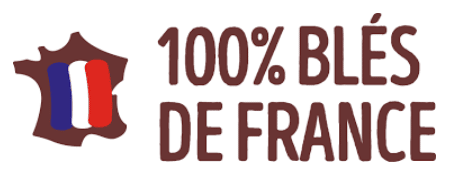 (Re)discover the 3 pillars of Francine's commitments

Francine, as a brand belonging to the century-old miller Grands Moulins de Paris, is in direct contact with farmers to implement, hand in hand with them, an ever more committed agriculture.
This commitment is based on the respect of a set of specifications including, among others :
    - the supply of 100% French wheat in the regional mills that produce Francine wheat flour (Paris-Gennevilliers, Reims, Marseille),
    - ecological transport by barge or train preferred when possible,
    - the use of recycled raw materials for the production of its paper and cardboard packaging.
The new Francine Label Rouge flour is contained in a recyclable FSC® certified bag.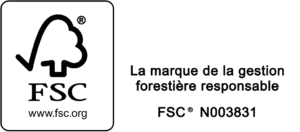 Francine, a brand close to consumers
Nearly 95% of French people know Francine!
Committed to its consumers:
    - By making his tastes evolve according to theirs.
    - By innovating with products that make everyday cooking easier for everyone.
    - By taking care of them with tips and gourmet recipes.
Francine is the link between the generations, giving a voice to adults and children who are also actors of the renewal in the kitchen.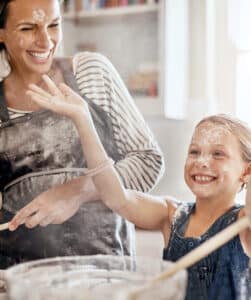 With nearly 50 million products tasted in France each year and as many creations in the kitchen, Francine is also a fast growing digital community:
    - nearly 230,000 unique visitors per month on its website francine.com which offers more than 1,000 recipe ideas and tips to simplify daily cooking
    - more than 94,000 fans on its Facebook page
    - more than 5,000 followers on his Instagram account