Since May 16, 2022, we are pleased to welcome in our headquarters in Ivry-sur-Seine (94) Taïka, a little dog in training to become a guide dog.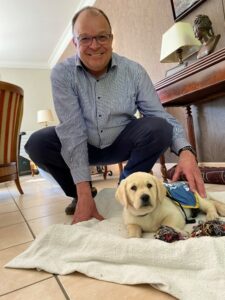 Taïka, a guide dog in training at Grands Moulins de Paris!
Taïka was born in the breeding center CESECAH of Montsablé in Lezoux in the Puy de Dôme. The CESECAH (Centre d'Etude, de Sélection et d'Elevage de Chiens guides pour Aveugles et autres Handicapés) is a dog breeding center whose mission is to raise puppies that are as fit as possible for their future job as Guide Dogs. It is a unique structure in France, it was created at the request of the French guide dog schools.
Taîka belongs to the Association des Chien Guides d'aveugle d'Ile de France which ensures his follow-up and his education during 10 years. This school is based in Coubert (77).
Taïka is at the side of Eric OBSTETAR, Logistics Director, at the initiative of this approach, after validation with the CSSCT and information of the CSEU, within the framework of our CSR approach and our handicap policy.
"We have been volunteers at the Coubert guide dog school for about ten years. After having been a weekend family, receiving for their relaxation the dogs already in school during the week, we wished to participate directly in their education by becoming a host family.
Taïka, a two-month-old female labrador, will be part of our daily life until she starts school. We are going to socialize her: she will accompany me some days to the office, using public transportation, and will participate in meetings. I will introduce her to different places: the market, the stores, the city. During this period, we will teach her some basic education; accompanied by Manon, our dog educator. Taïka will leave us at the age of ten months to go back to school.
This initiative is governed by an agreement signed between Grands Moulins de Paris and the guide dog school, which specifies the terms and conditions for taking care of the dog within the company.
Guide dogs for the blind: what is their role?

The guide dog is trained to facilitate the daily life of his master, visually impaired, especially in all his movements. He can learn up to 50 different commands!
Contrary to popular belief, guide dogs are not just for the blind. Visually impaired people can also apply. Through his education and his guiding work, the dog will bring to his master :
  - Autonomy in his movements: the master is no longer obliged to be accompanied by a third person;
- Safety: the dog will naturally bypass the various obstacles;
- Fluidity: the journeys become more fluid and less tiring;
- A better relationship: people get in touch with the visually impaired person more easily when he has a guide dog;
- A reassuring presence at the side of the visually impaired person, allowing them to break the solitude of their daily life.
Guide dog for the blind: learn more about the training
The puppies stay approximately from their 2 to 10 months within their foster family. During this period, the family has to stimulate, awaken, learn and socialize the puppy. From the age of 10 months, the puppy will stay for one year in a specialized school to teach him everything he will need to know to accompany his future master.
The small dog will have to become sociable with :
  - All types of people he will meet in his life: children, elderly, etc.
  - His fellow dogs: he must be totally at ease and non-aggressive with other dogs.
  - All kinds of animals, big or small.
The puppy should be able to adapt as easily and quickly as possible to different types of environments. This major asset will be his strength as a future guide dog. It is therefore essential to be able to take him to different environments, especially to his workplace.
The dog is also monitored by a veterinarian and canine behaviorist to ensure that it is healthy, well-behaved and has learned the right rules. If this is not the case, the dog may be "downgraded" and will no longer be destined to be a guide dog.
After its year of schooling, if the dog is declared fit to work, it is loaned to a visually impaired person until its 7th birthday. From this age onwards, the dog will be retired to another family, often a relative of its previous owner or of the association.