Our brand Les Recettes de mon Moulin offers to bakers a new creation: delicious madeleines 100% pure butter. Let your customers discover the sweetness of these little treats to be enjoyed at breakfast or as an afternoon snack.
Offer new gourmet madeleines to your customers
Originally from Commercy (in Lorraine), the madeleine quickly became an emblematic pastry in all French regions. With its characteristic shape and its unique flavor, it has seduced young and old gourmets for several centuries.
Today, Les Recettes de mon Moulin offers bakers two 100% pure butter recipes to vary the pleasures:
Madeleines are ideal for expanding your range of pastries and saving you time in your preparations.
Made in France, they have all the necessary assets to please your customers, both children and parents:
- A handcrafted "homemade" visual capable of attracting the attention of customers; 
- A tasty and authentic taste; 
- A 100% pure butter composition; 
- A soft and melting or crispy texture (depending on the preparation); 
- A generous and nomadic format that is easy to carry. 
Use them to diversify your offer and attract new customers at any time of the day!
How to highlight Madeleines in your store?
Madeleines are perfect to satisfy your customers' sweet tooth. Their small and easy to carry format allows you to offer them at different times of the day:
-Satisfy your customers' hunger at snack time  
-Complement your bakery's breakfast options with a product that is easy to take with you. 
-Include them as a dessert in your lunch formulas.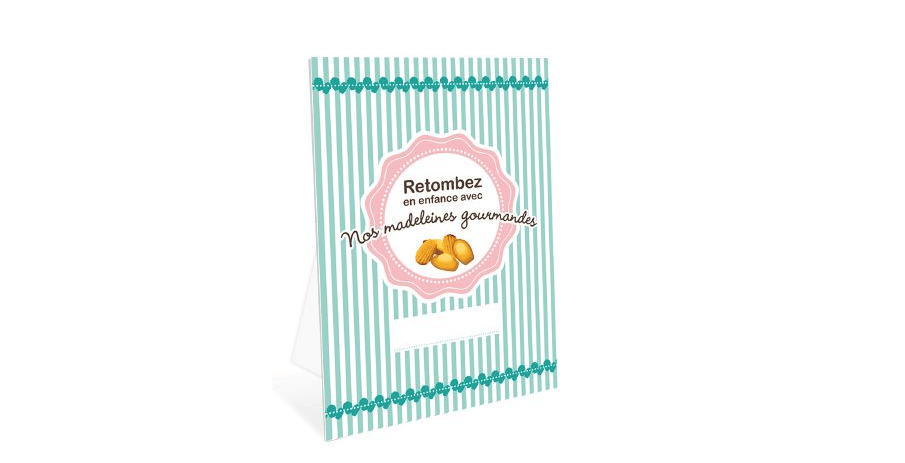 To enhance the value of madeleines in your store, place them near the cash register and trigger impulse purchases!
We also offer you a complete launch kit (composed of a counter stand and a display to showcase the madeleines).
Madeleines have the added advantage of being very quick to prepare.
Two gourmet results are possible to diversify your bakery offer.
Offer both textures for even more fun:
-For a soft and melting madeleine, simply defrost the product at room temperature for 2 to 4 hours; 
-For a crispy product, put it in the oven for 3 minutes at 200 degrees (6 minutes at 180 degrees for filled madeleines) and let it rest for 15 minutes before serving.